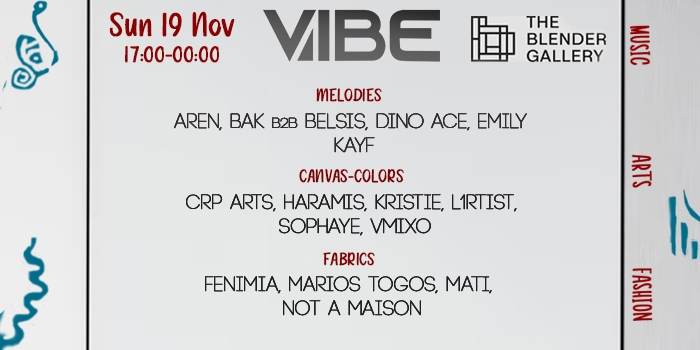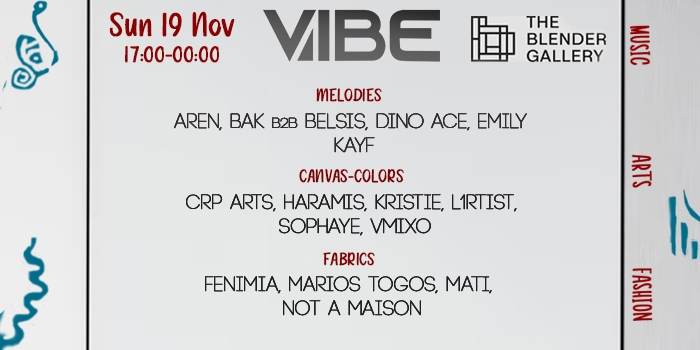 VIBE at Blender Gallery Glyfada
Πληροφορίες Εκδήλωσης
Περιγραφή
ART | MUSIC | FASHION
Τοποθεσία: Blender Gallery Γλυφάδα
Ημερομηνία: Κυριακή 19 Νοεμβρίου
Ώρα: 17:00 - 23:59
All forms of art combined with perfect harmony. VIBE and its environment is where abstraction seamlessly intertwines with figuration. As vibrant hues dance across the canvas of the venue, you will find yourself immersed in a realm, where artistic expression knows no limits.
--------
ART: CRP ARTS, HARAMIS, KRISTIE, L1RTIST, SOPHAYE, VMIXO
MUSIC: AREN, BAK b2b BELSIS, DINO ACE, EMILY, KAYF
FASHION: FENIMIA, MARIOS TOGOS, MATI, NOT A MAISON
--------
Experience the Vibe & create the memories.
Προτεινόμενη ώρα προσέλευσης έως 18:30.
Τιμές Eισιτηρίων:*
Early Birds: 15€
Regular: 17€
LIMITED Backstage tables
- 6944660690 - 6947708037
Τοποθεσία: BLENDER GALLERY GLYFADA
Ζησιμοπούλου 4, Γλυφάδα 166 74
Δείτε το στον χάρτη: https://maps.app.goo.gl/ViUnPjfh2qYkauMq9?g_st=ic
Διοργανώνεται από

Vibe