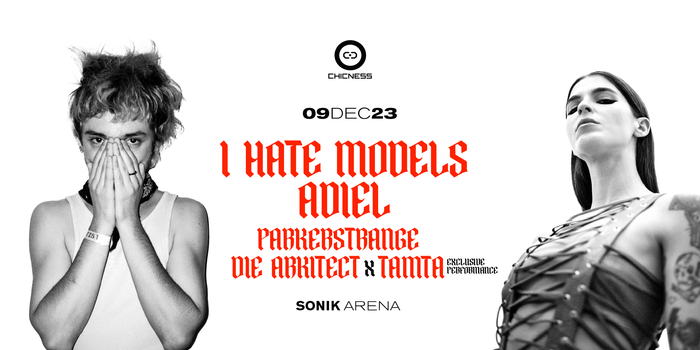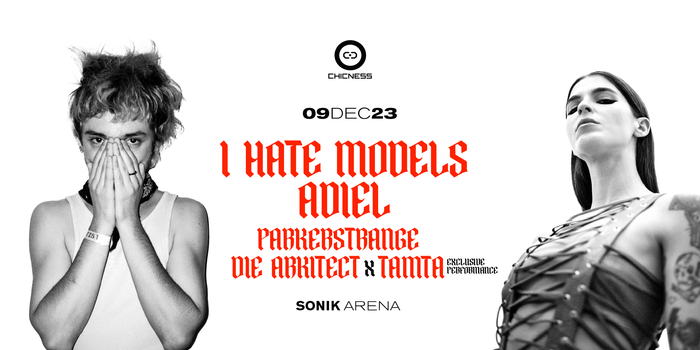 Chicness with I Hate Models , Adiel , Parkerstrange & Die Arkitekt X Tamta
Σάβ 09 Δεκ - Κυρ 10 Δεκ
20:00 - 08:00
Πληροφορίες Εκδήλωσης
Περιγραφή
Σάββατο 09.12.23 // Saturday 09.12.23
Chicness with I Hate Models , Adiel , Parkerstrange & Die Arkitekt x Tamta excluxive performance, Sonik Arena, Thessaloniki
Προπώληση εισιτηρίων / Presale tickets:
Πρώτη κυκλοφορία / First release Community Tickets: 17€ (Sold Out)
Δεύτερη κυκλοφορία / Second release Phase 1 Tickets: 23€ (Limited)
Τρίτη κυκλοφορία / Third release Phase 2 Tickets: 26€
VIP Booth Area Tickets:
Πρώτη κυκλοφορία / First Release Phase 1 Tickets: 40€ (Limited)
Δεύτερη κυκλοφορία / Second release Phase 2 Tickets: 45€
Φυσικά σημεία προπώλησης / Official Presale Stores:
ZERO GRAVITY (Τσιμισκή 115, Ναυαρίνου, Θεσσαλονίκη)
Καφέ Νίκης 35 ( Λεωφόρος Νίκης 35, Θεσσαλονίκη)
Περισσότερες πληροφορίες σχετικά με τις κρατήσεις της VIP AREA στα παρακάτω τηλέφωνα / More information about VIP AREA and reservations at: +30 6946504933 // +30 6947349864
Σάββατο 9 Δεκεμβρίου, η Chicness παρουσιάζει στο Sonik Arena, το μεγαλύτερο rave πάρτυ της χρονιάς!
Ο εκρηκτικός I HATE MODELS θα πρωταγωνιστήσει σε αυτή την μεγάλη βραδιά όπως και η Ιταλίδα ADIEL η οποία θα βρεθεί στη Θεσσαλονίκη για πρώτη φορά.
Μαζί τους ο μυστηριώδης DIE ARKITEKT, o οποίος μαζί με την ελληνίδα σταρ, TAMTA, θα παρουσιάσουν ένα electro live, οπτικοακουστικό show στο άνοιγμα της βραδιάς. Την βραδιά πλαισιώνουν επίσης ένα νέο ανερχόμενο duo, οι PARKERSTRANGE (The Bliss Office) καθώς και ο resident dj της Chicness, Designer.
ComeTogether Link: https://cometogether.live/event/508
I Hate Models (France):
In his singular path as an artist, I Hate Models swerves standardised structures and instead focuses on emotional response.The energy of club music serves as a vessel for his own feelings and a tool to manipulate others with. The spectrum of moods expressed – in his productions, DJ sets and on his label Disco Inferno – veers from nostalgia and passion to loneliness, melancholia and brutality, often juxtaposing darkness and light in the same pulse as an authentic conduit of his own artistic self-assessment.
On his journey thus far, IHM has released music on labels ranging from Arts, VOITAX and Khemia to Rave Or Die and Perc Trax, who carried his 2019 album L'Âge Des Métamorphoses.
He's also remixed Depeche Mode and Perc. At every turn, his disregard for expectations and conventions has resulted in dynamic, ambitious music that feasts on the flesh of techno, industrial and trance without ever becoming beholden to one source. Within the microcosm of one track, the energy can shift from bruising rhythm to swooning ambience and back again – cascades of pearlescent melody giving way to shards of sheet metal, thunderous percussion offset by softly sculpted sine waves. That the further adventures of I Hate Models feel entirely open-ended is completely by design – generic constriction is the enemy of genuine catharsis.
Instagram Page: https://www.instagram.com/ihatemodels1/
Adiel (Italy):
Having made a practice to steer crowds into deep ecstasy with her hypnotic sets at famed Goa Ultrabeat parties in Rome where she operates as a resident DJ, Adiel kicked off her own label, Danza Tribale in 2016 with a solid debut instalment, 'Anatomia Del Cavallo', that urged new ravers and dancers to join in with her densely forested musical fantasies where swirling melodic motifs, eerie atmospheres and entrancing 4/4 rhythms coexist in a rapturous communion of sorts. Orbiting around her own output, Danza Tribale is intended to provide a bespoke landing platform for techno dynamics both obscure and profound, alternately wild and held-in, instinctive and sophisticated,
Διοργανώνεται από

Chicness