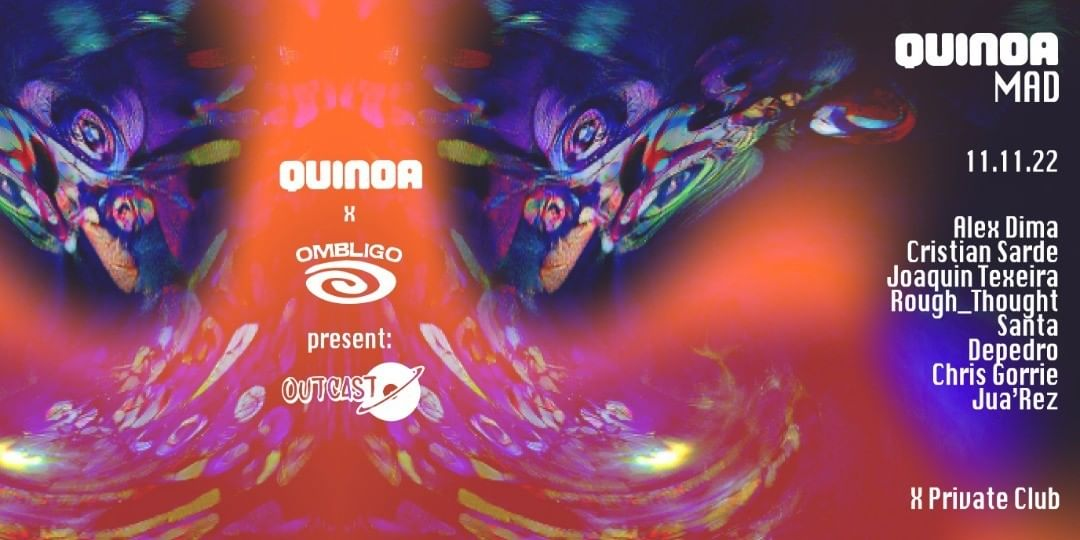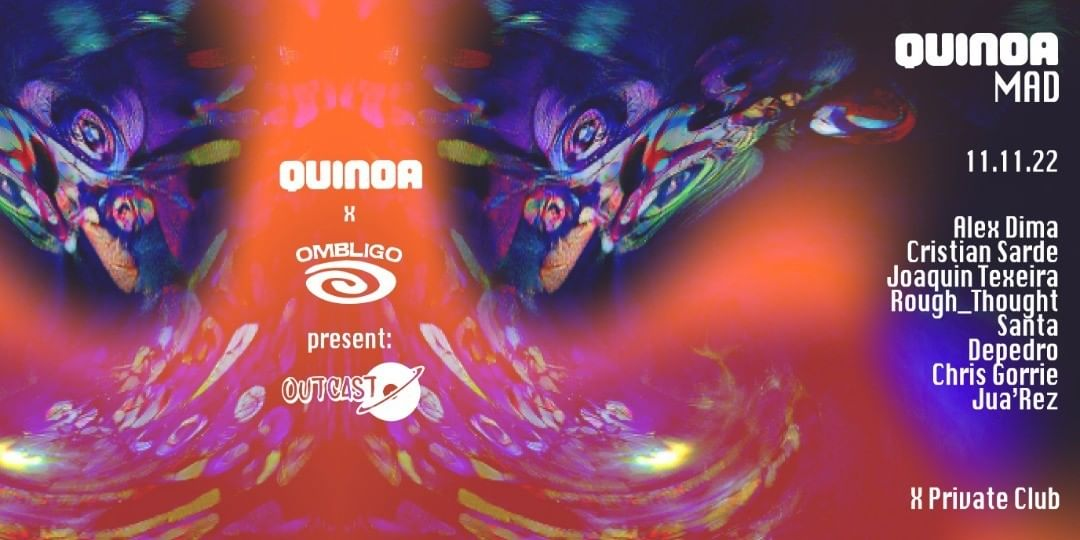 Quinoa Experience x Ombligo present Outcast Torino in Madrid
Πληροφορίες Εκδήλωσης
Περιγραφή
Tickets include 2 drinks until 2:00 am
Our November Madrid edition features yet again Italians who, as the saying goes, happen to do it better. Brought to you in collaboration with one of Madrid's finest collective, Ombligo, we present: Outcast Torino.

Before getting into our usual story about the artists, we have something quite exciting for you, especially for our nerdier friends into Web3 wizardries.
We are selling tickets to this event as NFTs!
This means that the first 30 of you to buy the ticket will have an exclusive image that will be 100% yours to collect, trade or sell to your heart's desire. Don't miss the chance to receive a little unique piece of Quinoa artwork, designed by our very own Andrei Okoloulak.

Now, onto the music:

The Outcast project started as a group of friends gathering around good music, quickly grew into one of the household names of the current Italian underground scene. We'll be hosting two of their main men: Alex DIma and Cristian Sarde and we're very excited to hear where their consistent innovation and dedicated digging has brought them to today.

We also have the pleasure of hosting a man who's been making quite some noise lately: Joaquin Texeira. The Badajóz-born, Lisbon-based artist likes to adapt to different spaces and contexts, taking the psychology of the dancefloor as his main inspiration to make the crowd dance with their bodies and minds.

The room upstairs will be under the spell of the Ombligo crew. A mix of wisdom and boisterousness characterizes this crew. Composed of Spaecial label boss Rought Trought, Santa and Depedro, the collective is promising to become another staple in the thriving Madrid scene, with collaborations over the iberian peninsula already showcasing their multifaceted and vanguard sound.

Last but not least, our boys Chris Gorrie and Jua'Rez will be opening the ceremonies downstairs in an extended moodsetter, in the signature Quinoa blend.

Διοργανώνεται από

Quinoa Experience